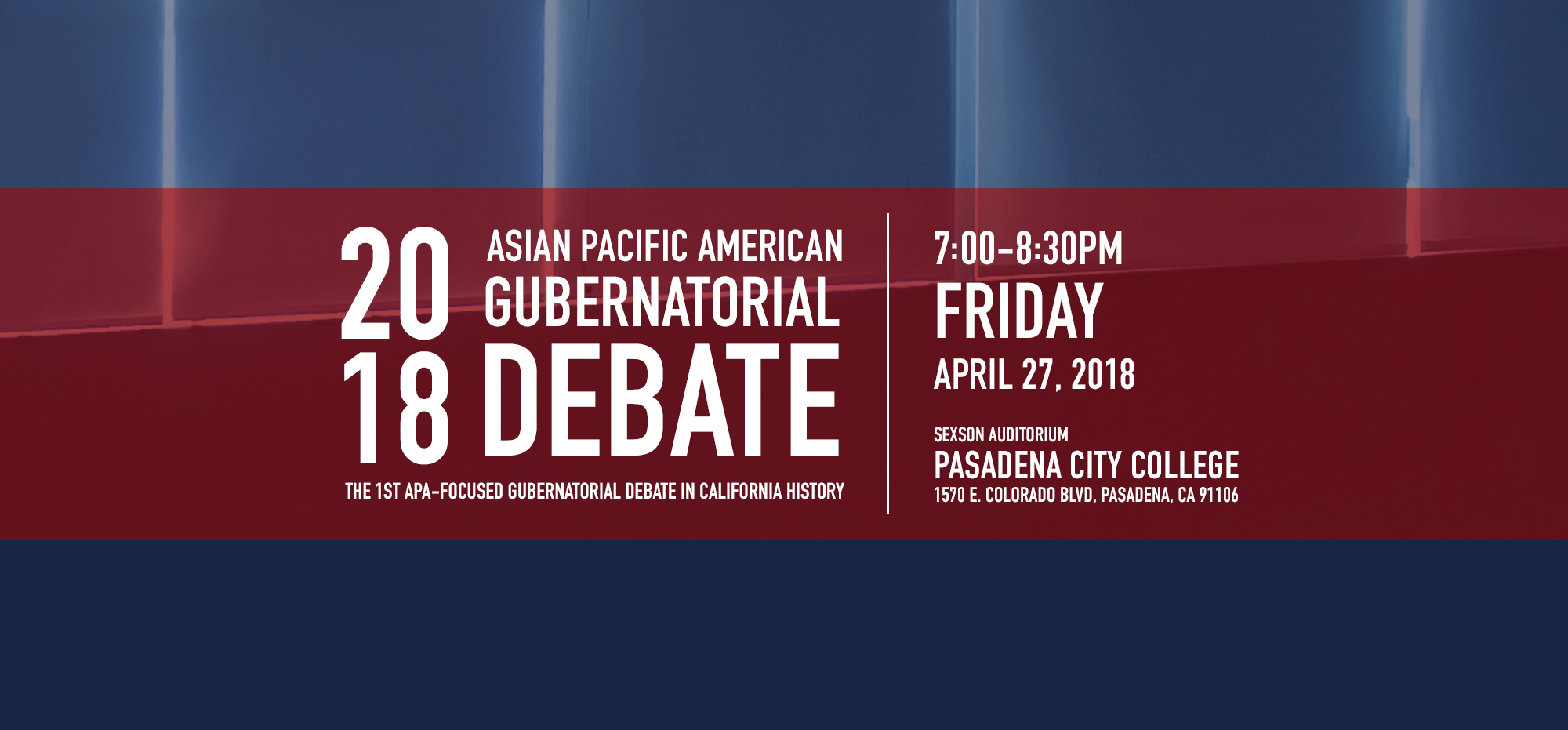 When it comes to deciding who will lead our state, the APA community must be included in the discussion.
APA communities are the fastest growing ethnic group across the nation. Today, more than one-third (5.7 million) of the United States' APA population resides in California. California is also home to the largest number of APA-owned businesses (32% of the total in the nation) and boasts an APA consumer market of $172 billion.

With the APA population comprising nearly 15% of California's electorate, our community has the potential to decide the outcome of the 2018 elections. We are a community that cannot be ignored.
Friday, April 27, 2018
7:00PM-8:30PM
Sexson Auditorium
Pasadena City College

1570 E Colorado Blvd
Pasadena, CA 91106
Gubernatorial Candidates
Travis Allen (R)
CA State Assemblymember
Delaine Eastin (D)
Former CA Superintendent of Public Instruction
John Chiang (D)
CA Treasurer
Gavin Newsom (D)
CA Lieutenant Governor
John H. Cox (R)
Businessman
Antonio Villaraigosa (D)
Former Mayor of Los Angeles
The 2018 APA-facing Gubernatorial Debate is presented by CAUSE in partnership with
AAPI Data
API Equality-LA
API Forward Movement (APIFM)
APIAVote
APIs Mobilize
Asian Americans Advancing Justice – Asian Law Caucus
Asian Americans Advancing Justice – Los Angeles
Asian American Drug Abuse Program (AADAP)
Asian American Education Institute
Asian American Small Business PAC
Asian Business Association
Asian Law Alliance
Asian Pacific American Bar Association of Los Angeles County (APABA)
Asian Pacific American Legislative Staff Network (APALS)
Asian Pacific Americans for Progress
Asian Pacific Community Fund
Asian Pacific Islander Commission- California State
Asian Pacific Islander Community Actions (APICA)
Asian Pacific Islander Legislative Caucus Institute
Asian Pacific Islander Small Business Program
Asian Pacific Policy and Planning Council (A3PCON)
Asian Professional Exchange (APEX)
California Asian Pacific Chamber of Commerce
Cambodian Advocacy Collaborative
CAPA21 Action Fund
Chinatown Business Improvement District
Chinese Americans Citizens Alliance – Los Angeles (CACA-LA)
Chinese-American Elected Officials (CEO)
Council of Korean Americans (CKA)
Empowering Pacific Islander Communities (EPIC)
FairVote California
Faith and Community Empowerment (formerly KCCD)
Fresno Center for New Americans
Japanese American Citizens League – Northern California Western Nevada Pacific District
Japanese American Citizens League – Pacific Southwest
Japanese American National Museum (JANM)
Korean American Coalition (KAC)
Korean Health, Education, Information & Research (KHEIR) Clinic
Koreatown Youth & Community Center (KYCC)
Lao Family Community Empowerment Inc.
League of Cities- API Caucus
Little Tokyo Service Center (LTSC)
National Asian Pacific American Families Against Substance Abuse (NAPAFASA)
National Association of Asian American Professionals (NAAAP)
National Association of Asian American Professionals (NAAAP), Los Angeles
National Association of Asian American Professionals (NAAAP), San Jose
National Association of Asian Pacifics in Politics & Public Affairs (NAAPPPA)
Nikkei for Civil Rights & Redress (NCRR)
OCA-Greater Los Angeles (OCA-GLA)
Orange County Asian and Pacific Islander Community Alliance (OCAPICA)
Pacific Asian Consortium in Employment (PACE)
Pacific Asian Counseling Services
Pilipino Workers Center (PWC) of Southern California
Polinav
South Asian Network
Southeast Asia Resource Action Center (SEARAC)
Taiwanese American Citizens League (TACL)
The WhatItDo.com
TOFA (To'utupu 'oe 'Otu Felenite Association) Inc.
United Cambodian Community
Vietnamese American Chamber of Commerce