2018 Women in Power Changemaker Awards
When a woman is both successful and a leader for her community, we must ensure that we spotlight her accomplishments and service. The Women in Power Changemaker Award recognizes a woman in our community who is not only leading, but turning around to help lift others up the ladder.
The Honorable Judy Chu | Congressmember, 27th Congressional District
Judy Chu was elected to the U.S. House of Representatives in July 2009. She represents the 27th Congressional District, which includes Pasadena and the west San Gabriel Valley of southern California.
Rep. Chu currently serves on the powerful House Ways and Means Committee, which has jurisdiction over legislation pertaining to taxes, revenues, Social Security, and Medicare. In that Committee, Rep. Chu is a member of the Subcommitees on Health and Human Resources, giving her oversight over healthcare reform and crucial safety net programs. She also serves on the House Small Business Committee, which has oversight of the Small Business Administration, and is a member of the Subcommittee on Economic Growth, Tax and Capital Access.
Chu was first elected to the Board of Education for Garvey School District in 1985. From there, she was elected to the Monterey Park City Council, where she served as Mayor three times. She then was elected to the State Assembly and then California's elected tax board, known as the State Board of Equalization. In 2009, she became the first Chinese American woman elected to Congress in history. Chu lives with her husband, Michael Eng, in the city of Monterey Park, where they have been residents for over 30 years.
Mona Pasquil | Appointments Secretary of California, Office of Governor Edmund G. Brown Jr.
Mona Pasquil serves as Appointments Secretary in the Office of Governor Edmund G. Brown Jr. and is responsible for helping the Governor build his administration by recruiting top candidates to serve the state. Prior to her appointment, Pasquil served as Chief of Staff to California Lieutenant Governor John Garamendi and Acting Lieutenant Governor, after Garamendi was elected to Congress. This marked the first time a woman, Asian Pacific Islander or Filipino-American served in this role.
Pasquil is a veteran political advisor and strategist, serving as President of Pasquil Associates & Strategic Communications for more than three decades and directing presidential, gubernatorial, and local campaigns across the nation. In addition to working with California and Washington's heaviest political hitters, Pasquil also worked as a strategic consultant for IBM's national, state and local government sales team.
Pasquil is most proud of her work mentoring California's youth to become more active in their communities. This work includes founding the Asian Pacific Youth Leadership Project of California, an organization dedicated to boosting Asian and Pacific Islander youth involvement in California policy.
Awkwafina | Rapper & Actress (special video message)
Awkwafina is an American rapper and actress based in Brooklyn, New York.
In 2018, she was part of the principal cast in the all-female spinoff to the Ocean's Trilogy, Ocean's 8. Also that summer, she co-starred in the film Crazy Rich Asians. On October 8th, 2018, Awkwafina became the first Asian woman in 18 years to host an episode of Saturday Night Live.
Awkwafina began rapping at age 13. In 2012, she gained popularity for her song "My Vag", a response to Mickey Avalon's "My Dick". The music video has since garnered over three million views on YouTube.
Awkwafina has expressed support for the Time's Up movement, and has also advocated for the need for more female directors and against the stereotyping of Asians in media, having rejected roles that require accents.
Awkwafina majored in journalism and women's studies at the State University of New York at Albany.
"Creating Women Friendly Workplaces" Panel
How do we create environments where women are not only supported, but elevated? Where women are treated and compensated equitably, work and family co-exist, and all workers are valued. What types of policies and practices will we need to shift the culture within a workplace? How does a company ensure that they are aligned in their internal policies? Hear from top executives, leaders and commissioners from WMN Legal, Commission on the Status of Women and Girls, Equal Pay Today, and LAHSA, for a discussion to develop and implement workplace policies and practices that center around and benefit all women.
Sienna Babb | Founder & CEO, WMN / WRK
Prior to starting WMN / WRK, Sienna was a business development, strategy and operations executive for major media and tech companies including NBCUniversal, Activision and Sony, with a focus on building and launching digital businesses and products. After 12 years in corporate, Sienna started WMN / WRK as the solution to a personal situation where she needed to find a great employment lawyer and found it to be a difficult uphill battle to find someone she could trust. After finding an amazing lawyer by pure luck after weeks of searching, phone calls and getting passed around, Sienna lawyered up and got through the worst career moment of her life. Sienna realized that women need a better and faster way to find vetted professionals for high-risk life moments and started WMN / WRK as a trusted resource to help women easily find vetted female attorneys, finance professionals and doctors for any situation. Sienna has an MBA from UCLA Anderson School of Management and a BS from Cornell University.
About WMN / WRK:
WMN / WRK (pronounced 'women work') is a network of legal, finance and healthcare professionals who are committed to helping women thrive. We match women with the right professionals for their individual needs, whether that be starting a business, negotiating an employment offer, finding a female CPA to file their taxes or finally switching to a female doctor that listens. We believe every woman deserves to work with trusted professionals who care.
Alice Y. Hom | Commissioner, Los Angeles City Commission on the Status of Women and Girls
Alice Y. Hom is a community builder invested in bridging diverse and overlapping communities to raise resources, to nurture leaders, and to build the capacity of organizations & individuals for social change. Alice has over 20 years of experience in leadership development, diversity, inclusion & equity work, organizational development, civic engagement, and fundraising. She currently is a Soros Equality Fellow where she created the Historically Queer podcast, stories of activism by LGBTQ people of color, then and now. Her previous positions include serving as the Director of the Queer Justice Fund at Asian Americans/Pacific Islanders in Philanthropy and the Director of the Intercultural Community Center at Occidental College.
Alice serves on the boards of California Humanities, Borealis Philanthropy, and is a Commissioner on the Los Angeles City Commission on the Status of Women. She is the co-editor of award-winning anthology Q & A: Queer in Asian America and has published articles in various journals and anthologies. She holds a PhD in history from Claremont Graduate University, an MA in Asian American Studies from UCLA and a BA from Yale University.
Wendy Greuel | Commissioner, Los Angeles Homeless Services Authority
Wendy Greuel, a veteran housing and homelessness policy expert, was appointed to the Los Angeles Homeless Services Authority's Board of Commissioners (LAHSA) by Los Angeles Mayor Eric Garcetti. The LAHSA Commission has the authority to make budgetary, funding, planning and program policies for federal funding allocated to homelessness programming in the LA region.
Wendy Greuel served as a member of the Los Angeles City Council from 2002-2009, where she served representing the valley. She was only the second woman elected to citywide office in Los Angeles, after her predecessor Laura Chick. Greuel later served as Los Angeles City Controller, from 2009 through 2013. She previously served as a member of the Clinton Administration, as the Deputy Director of the Interagency Council on Homelessness at the Department of Housing and Urban Development.
Greuel also served in the office of Mayor Tom Bradley for ten years. She acted as a liaison to elected officials, city departments and the community and was a key advisor on a range of public policy issues — including education, housing, and homelessness.
Greuel currently serves as a consultant for the Discovery Cube Los Angeles (DCLA), a children's science museum that focuses on STEM proficiency, early learning, healthy living, and environmental sustainability. Greuel also currently serves as an Executive in Residence at California State University, Northridge Nazarian School of Business and Economics.
Joi Chaney | Project Director, Equal Pay Today
Joi Chaney is the Project Director of Equal Pay Today, a project of Equal Rights Advocates and Senior Policy Counsel at Equal Rights Advocates. Equal Pay Today is an innovative collaboration of women's legal and advocacy groups formed to address the long-standing gender wage gap and engage new constituencies in the fight for equal pay. Joi is also founder and principal of J.O.I. Strategies, which develops strategies for organizations seeking to achieve justice, opportunity, and inclusion for the nation's underserved communities, beginning with women of color. Previously, Joi served in the Obama Administration at the U.S. Equal Employment Opportunity Commission as a counsel in the Office of the Chair.
Earlier in her career, she served as Policy Director and Counsel of the Senate Democratic Policy Committee, working on judiciary, labor, immigration, commerce, and housing issues, as well as issues impacting women, racial and ethnic minorities, and LGBT persons. She is also an alumnus of Planned Parenthood Federation of America. Joi graduated from Howard University and Harvard Law School. She is from Orlando, FL but lives in Washington, DC with her family. Follow her on Twitter @joitweets and @equalpay2dayorg.
Moderated By
Vivian Long | Director of Programs, Long Family Foundation (LFF)
Vivian Long is the Director of Programs for the Long Family Foundation (LFF), an intergenerational, private non-profit organization that funds religious, educational, cultural and research endeavors. In her role, Vivian works closely with members of the family to promote the Foundation's core principles of faith, compassion and commitment to strengthen future generations' philanthropy.
Prior to her current role, she led domestic policy and advocacy efforts at the Joyful Heart Foundation, where she worked to address the national issue of untested sexual assault evidence kits and assisted in the passage of rape kit reform legislation in over 15 states.
Vivian received her MPA from NYU's Wagner School of Public Service and graduated with a BA in International Human Rights from New York University with honors. She currently serves on the Board of Directors for Asian Americans Advancing Justice – Los Angeles and is a past Trustee for the Pi Beta Phi Foundation.
"Story of Self to Inspire Change"
The stories that we tell have the power to shape our world, and in today's day and age, we now have access to endless content at the touch of our hands. How do we cultivate and seize this tremendous opportunity to use the art of storytelling? How do we take our own personal experiences and share them in a way that inspires action and change to help lead our communities? We need to motivate others into action through our narratives. Storytelling is an essential skill for leaders of all ages to convey to connect with those around us. If you are interested in becoming the best version of yourself, be it in your community or organization, this session will help you turn your vision into a movement.
Emilie Aries | Founder & CEO, Bossed Up
Emilie Aries is an internationally recognized speaker, podcaster, author, and the Founder and CEO of Bossed Up, an innovative personal and professional training company that helps women craft sustainable careers.
Aries is a regular contributor at Forbes, The Huffington Post, and Levo League and recently launched Bossed Up's very own podcast where she interviews expert guests to help women navigate all kinds of career conundrums. Her new book, Bossed Up: a Grown Woman's Guide to Crafting a Career & Life you Love is due to hit shelves in May of 2019 with Public Affairs Books (a division of the Hachette Book Group).
Aries is ranked among such luminaries as Chelsea Clinton and Janet Mock in the LEVO 100, and received WIN's Young Women of Achievement Entrepreneurship Award and the YWCA National Capital Area's 2015 Rising Star Award.
Previously, Emilie served on national political campaigns as a digital strategist and grassroots organizer, where she trained and managed hundreds of organizers, helped campaigns leverage online communication technology, and smashed stereotypes about women in tech.
She earned her BA in political science from Brown University and completed a Fellowship on Organizing at the Harvard Kennedy School of Government. Emilie is based in Denver, CO and combines her political instincts and personal experience with burnout to help women step into their power and be the boss of their lives.
About Bossed Up:
Being a woman in today's world can be straight-up hard. We're supposed to be one thing at work, another thing at home, all while juggling a Pinterest-perfect personal life.
Here's the truth: the system is broken, and it sure as hell wasn't designed for us.
Here at Bossed Up, we believe in playing the cards we've been dealt – while changing the game. Our programs, tools and resources are designed to help you take your power back, while keeping it real about the unjust system we're operating in. We're here to help you write your own come-up story with a squad of boss women supporting you every step of the way.
"Creating Inclusive Spaces" presented by LEAP
Because diversity of thought and perspective continue to be an asset, how do you create a space that encourages your team to openly communicate with each other? In this breakout session, participants will identify their own multiplicity, practice reflective listening skills which are key to strengthening group dynamics, and identify best practices for creating inclusive spaces.
Alison De La Cruz | Vice President of Programs, Japanese American Cultural and Community Center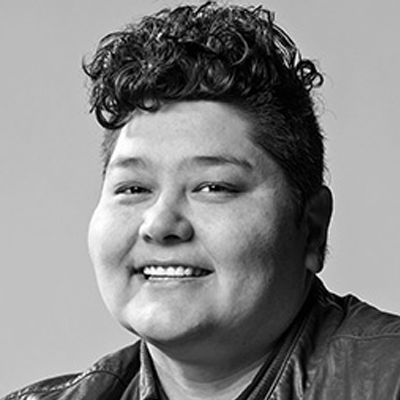 Alison M. De La Cruz is a multi-disciplinary theatre artist, producer, facilitator, educator, and cultural space maker.
Over the last 20 years De La Cruz has carved a unique niche collaborating with a broad range of artists, administrators, educational and non-profit arts organizational staff and leadership to produce fundraising events and programs that have raised over $1.5 million to help them provide new artistic work, educational programs or cultural spaces of significance to the Asian Pacific American, Latino American, African American, LGBTQ, youth, immigrant and greater communities of Los Angeles. De La Cruz has helped to innovate cross-sector partnerships at the Shakespeare Center LA where their Coming Up Taller Award-Winning program, Will Power To Youth has been utilizing dialogue, art-making and arts services strategies to increase literacy, provide over $250,000 in youth wages and create safe spaces for personal growth and healthier communities. As a theatre-artist, De La Cruz has nurtured new artistic voices within diverse queer, immigrant, student and multicultural communities of Los Angeles. De La Cruz's work as a human relations and intercultural dialogue facilitator has designed and implemented conversations, trainings and retreats for California State University, Polytechnic, Pomona's Division of Student Affairs, National Conference for Communities and Justice, Marlborough School, and Asian Americans Advancing Justice – LA, Visual Communications and more.
De La Cruz recently served as a part of the inaugural team of Community Organizers in the Artistic Department at the Pasadena Playhouse working specifically on STOP KISS and PYGMALION. She is the Vice President of Programs at the Japanese American Cultural and Community Center.