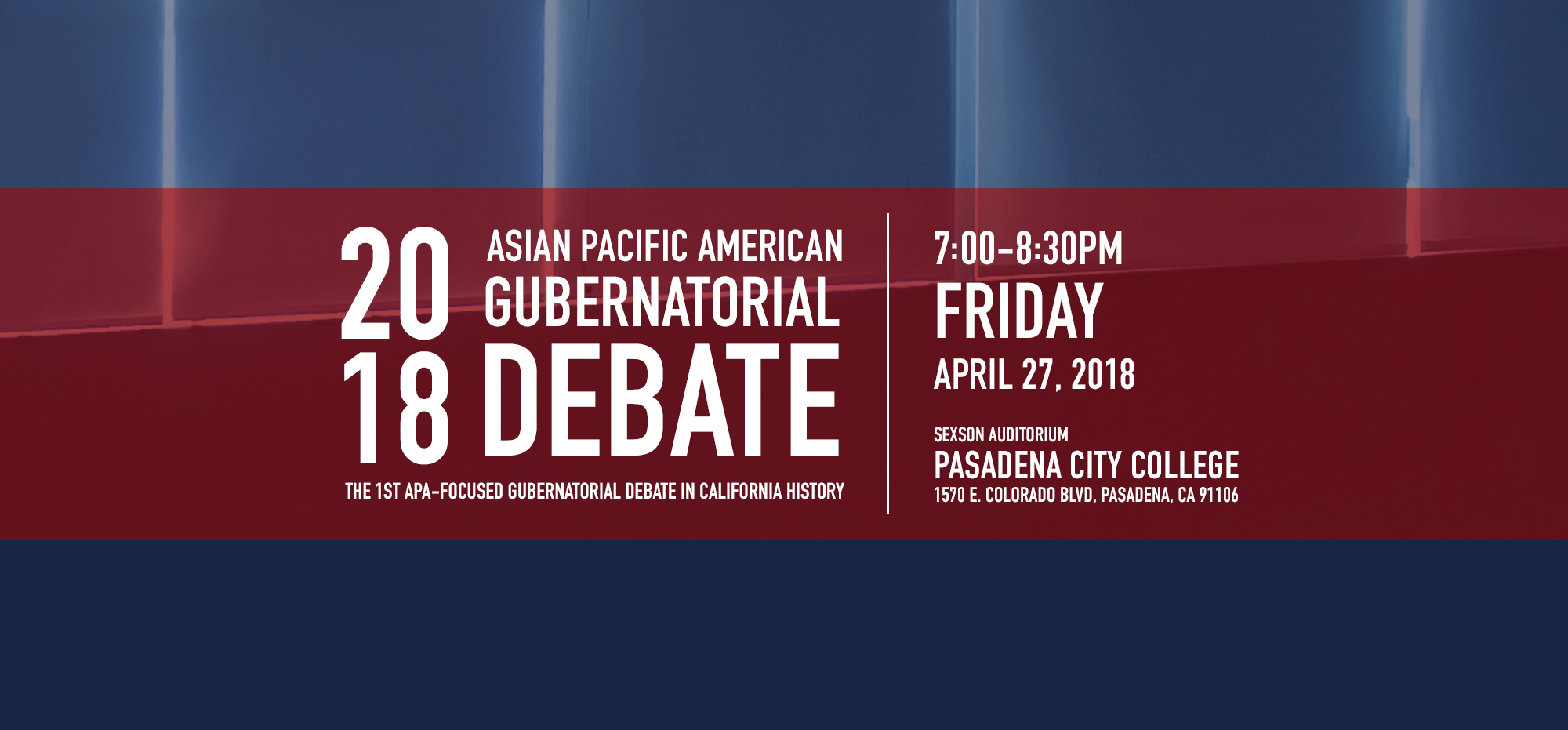 When it comes to deciding who will lead our state, the APA community must be included in the discussion.
APA communities are the fastest growing ethnic group across the nation. Today, more than one-third (5.7 million) of the United States' APA population resides in California. California is also home to the largest number of APA-owned businesses (32% of the total in the nation) and boasts an APA consumer market of $172 billion.
With the APA population comprising nearly 15% of California's electorate, our community has the potential to decide the outcome of the 2018 elections. We are a community that cannot be ignored.
Friday, April 27, 2018
7:00PM-8:30PM
Sexson Auditorium
Pasadena City College

1570 E Colorado Blvd
Pasadena, CA 91106
Moderators
Richard Lui
News Anchor, MSNBC and NBC News
Richard Lui is a journalist and news anchor for MSNBC and NBC News, and before that, news anchor at CNN Worldwide, where he became the first Asian American male to anchor a daily national news broadcast in the U.S. Most recently, Lui reported on the ground on the Paris and San Bernardino Terror Attacks and in Ferguson and Baltimore during heightened racial unrest.
For 15 years Lui's reporting has focused on politics, covering every U.S. national election since 2004. He has interviewed hundreds of politicians, from Detroit Mayor to U.S. President. He has been a contributing columnist for USA Today, Politico, Seattle Times, Detroit Free Press, Huffington Post, and others. Lui is a Policy Fellow at UC Riverside.
Seema Mehta
Political Writer, Los Angeles Times
Seema Mehta is a political writer for the Los Angeles Times currently assigned to the 2018 governor's race and U.S. Senate contest in California. She previously covered the 2016, 2012 and 2008 presidential campaigns, as well as multiple gubernatorial, Senate and mayoral races.
Mehta is a frequent face on television, appearing weekly on MSNBC, as well as on CNN, ABC, BBC and other outlets. She was named one of the top state political reporters in the nation by the Washington Post and completed a media fellowship at Stanford University. Mehta also contributed to Times' coverage of devastating wildfires that won the 2004 Pulitzer Prize for breaking news.
A graduate of Syracuse University, the East Coast native swore when she joined The Times in 1998 that she would only spend a few years on the Left Coast. Many years, a husband, a house and a few cats later, she can't imagine living somewhere she couldn't golf year-round.
Gubernatorial Candidates
Travis Allen (R)
CA Assemblymember
CONFIRMED
John Chiang (D)
CA Treasurer
CONFIRMED
John H. Cox (R)
Businessman
CONFIRMED
Delaine Eastin (D)
Former CA Superintendent of Public Instruction
CONFIRMED
Gavin Newsom (D)
CA Lieutenant Governor
Antonio Villaraigosa (D)
Former Mayor of Los Angeles
CONFIRMED
Schedule
6:00 PM

 General Registration

7:00 PM – 8:30 PM

 Gubernatorial Debate (Sexson Auditorium)
Ticket Policy
Please bring a physical or digital copy of your Eventbrite ticket.
Door Policy
At 6:45PM, we will begin allocating tickets to those on the waitlist. Please arrive before 6:45PM to ensure that you will have a seat. Doors will close promptly at 7:00PM.
Bag Policy
For security purposes, only clear bags will be allowed in the venue. Guests with other bags will be denied entry and asked to leave their belongings in their cars before entering.
Parking
Parking is $2 in Lot 5. A map of Pasadena City College is available below.
The 2018 APA-facing Gubernatorial Debate is presented by CAUSE in partnership with
AAPI Data
API Council
API Forward Movement (APIFM)
APIA Vote
APIs Mobilize
Asian American Drug Abuse Program (AADAP)
Asian American Education Institute (AAEI)
Asian American Small Business PAC (AASB-PAC)
Asian Americans Advancing Justice – Asian Law Caucus (Advancing Justice – ALC)
Asian Americans Advancing Justice – Los Angeles (Advancing Justice – LA)
Asian Americans for Community Involvement (AACI)
Asian Business Association (ABA)
Asian Law Alliance (ALA)
Asian Pacific American Bar Association of Los Angeles County (APABA)
Asian Pacific American Legislative Staff Network (APALS)
Asian Pacific Americans for Progress (APA for Progress)
Asian Pacific Community Fund (APCF)
Asian Pacific Islander American Community Actions (APICA)
Asian Pacific Islander Small Business Program (API SBP)
Asian Pacific Policy and Planning Council (A3PCON)
Asian Professional Exchange (APEX)
Asians and Pacific Islanders for LGBT Equality (API Equality – Los Angeles)
Bangladeshi American Coalition
California Asian and Pacific Islander Legislative Caucus (APILC)
California Asian Pacific Chamber of Commerce (CalAsian Chamber)
California Commission on Asian and Pacific Islander American Affairs (CAPIAA)
California Community College: Asian Pacific Islander American Trustees and Administrators Caucus (APITA)
California Democratic Party Asian Pacific Islander Caucus (CDP API Caucus)
California Young Democrats API Caucus (CYD API Caucus)
Cambodian Advocacy Collaborative (CAC)
CAPA21 PAC
Chinatown Business Improvement District
Chinese American Citizens Alliance – Los Angeles (CACA-LA)
Chinese-American Elected Officials (CEO)
Chinese for Affirmative Action (CAA)
Council of Korean Americans (CKA)
Empowering Pacific Islander Communities (EPIC)
FairVote California (FVCA)
Faith and Community Empowerment (formerly KCCD)
Fresno Center for New Americans (FCNA)
Japanese American Citizens League – Northern California Western Nevada Pacific District (JACL-NCWNP)
Japanese American Citizens League – Pacific Southwest (JACL-PSW)
Japanese American National Museum (JANM)
Korean American Coalition (KAC)
Korean Health, Education, Information and Research Clinic (KHEIR)
Koreatown Youth and Community Center (KYCC)
Lao Family Community Empowerment, Inc.
League of California Cities Asian Pacific Islander Caucus
Little Tokyo Service Center (LTSC)
National Asian Pacific American Families Against Substance Abuse (NAPAFASA)
National Association of Asian American Professionals (NAAAP)
National Association of Asian American Professionals (NAAAP), Los Angeles
National Association of Asian American Professionals (NAAAP), San Jose
National Association of Asian Pacifics in Politics and Public Affairs (NAAPPPA)
National Federation of Filipino American Associations (NAFFAA)
Nikkei for Civil Rights and Redress (NCRR)
OCA-Greater Los Angeles (OCA-GLA)
Orange County Asian and Pacific Islander Community Alliance (OCAPICA)
Pacific Asian Consortium in Employment (PACE)
Pacific Asian Counseling Services (PACS)
Pilipino Workers Center of Southern California (PWC)
Polinav
Search to Involve Pilipino Americans (SIPA)
South Asian Network (SAN)
Southeast Asia Resource Action Center (SEARAC)
Taiwanese American Citizens League (TACL)
Taiwanese American Professionals (TAP-LA)
Taiwanese American Professionals (TAP-OC)
Thai Community Development Center (Thai CDC)
TOFA (To'utupu 'oe 'Otu Felenite Association) Inc.
UniPro San Diego
United Cambodian Community (UCC)
Vietnamese American Chamber of Commerce (VACOC)
Vietnamese Voluntary Foundation, Inc. (VIVO)
Vision New America (VNA)
Press Partners
For partnership and sponsorship inquiries, please contact CAUSE Executive Director, Kim Yamasaki, at kim@causeusa.org or call the CAUSE office at (626)356-9838.

For press inquiries, please contact CAUSE Manager of Voter Engagement, Miko Jao, at miko@causeusa.org or call the CAUSE office at (626)356-9838.